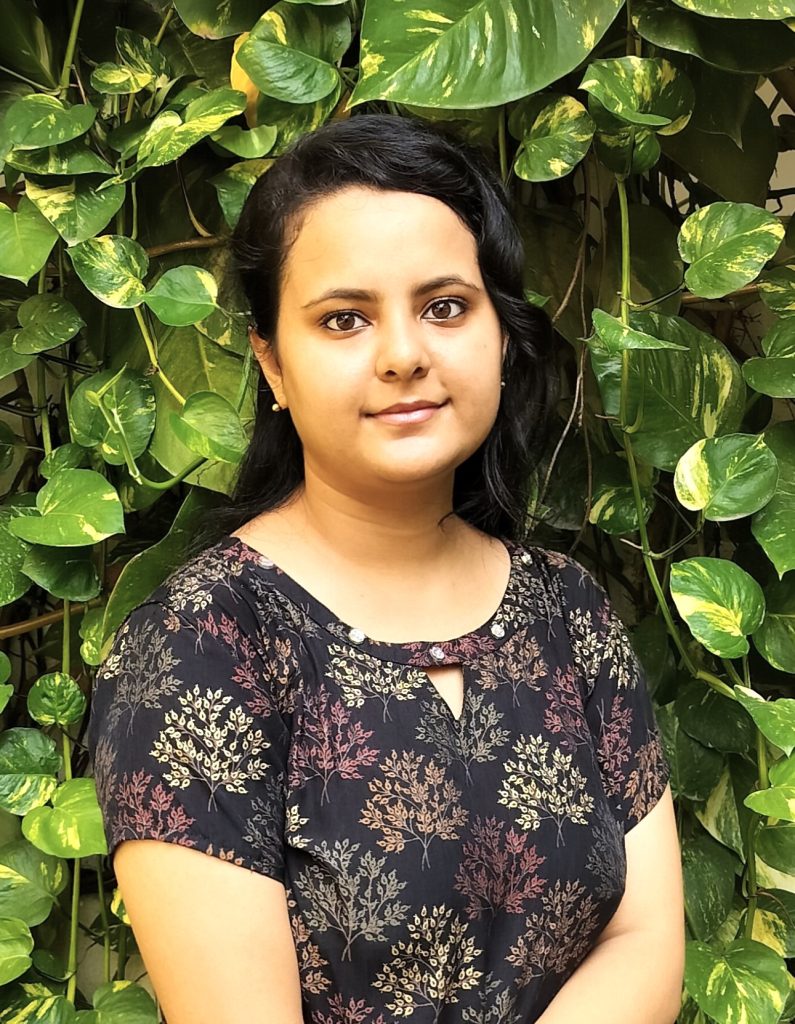 I completed my Bachelors degree in Chemistry from Seth Anandram Jaipuria College, University of Calcutta. Thereafter, I joined IISER Tirupati as an Integrated PhD student. In the first two years I have completed my course works along with lab rotations on theoretical as well as experimental projects. Currently, I am pursuing Ph.D. from IISER Tirupati under the supervision of Dr. Jatish Kumar. At present my work is focused on the design and synthesis of optically active pure- and mixed-metal nanoclusters and investigating the origin of its chiral absorption and chiral emission. We aim to make a bridge to correlate the structure and the observed photophysical and chiroptical properties in these nanostructures
        Chirality is a structural property of molecules and materials that deals with symmetry of the system. Earlier research on chirality was mostly confined to the organic molecular systems, however, the observation of optical activity in nanomaterials has rejuvenated the field and has extended its horizon to a new field know as Nanoscale Chirality. Among the several type of nanostructures, metal nanoclusters has attracted enormous attention due to its exciting tunable photophysical properties. In light of the real life importance of chirality in nanoscale, I am interested in the synthesis of mono as well as bimetallic nanoclusters and exploring its exciting chiral absorption and emission mechanisms such as fluorescence, phosphorescence, and thermally activated delayed fluorescence. Currently I am working on the late transition metals. My primary objective is to adopt a facile one-step approach for the synthesis of late transition metal nanoclusters exhibiting highly efficient chiral emission.
      Dr. Jatish Kumar is an Assistant Professor in the Chemistry department at IISER Tirupati. He pursued his Ph.D. from CSIR-NIIST, Trivandrum, India. After that he has worked as JSPS Postdoctoral Researcher at the Graduate School of Material Science, Nara Institute of Science and Technology, Nara, Japan and Marie Curie Postdoctoral Researcher at CIC biomaGUNE, San Sebastian, Spain. Dr. Jatish Kumar's group is focusing on the development of several chiral nanostructures for Bioapplication and as Light Emitting Materials.
Group website: https://sites.google.com/view/jatish-group/jatish-kumar
All 86 credits have been taken in the first 2 years of the integrated PhD program.
Internal Teaching Assistantships
CHM  211 – Inorganic Chemistry (BSMS 2021 batch, 3rd Semester, Monsoon 2022)
CHM 222 – Chemistry Laboratory Course (BSMS 2021 batch 4th semester, Spring 2023)
External Teaching Assistantships: Sri Venkateshwara College of Engineering, Tirupati
Modern Engineering Materials
Electrochemistry and Applications
Instrumental Methods and Applications
Academic Excellence Award 2023
GATE 2023
JAM 2020
Camelia Dutta, Sonia Maniappan, Jatish Kumar, Delayed Luminescence Guided Circularly Polarized Emission in Atomically Precise Copper Nanoclusters, Chem. Sci.14, 5593-5601 (2023) (cover art).
Sonia Maniappan, Camelia Dutta, Diego M. Solís, José M. Taboada, Jatish Kumar, Surfactant Directed Synthesis of Intrinsically Chiral Plasmonic Nanostructures and Precise Tuning of their Optical Activity through Controlled Self-Assembly, Angew. Chem. Int. Ed.62, e202300461 (2023) (cover art).
Camelia Dutta, Sonia Maniappan, Jatish Kumar, Dual Emissive Optically Active Gold Nanoclusters Endowed with Circularly Polarized Phosphorescence, Chem. Commun. (2023) (accepted).