Veekshana is a forum where women faculty members and scientists of Indian Institute of Science Education and Research (IISER) Tirupati come together with a passion and a vision to jointly promote women in science. We provide a platform to identify and address any issues that women scientists face in their career path and empower them to overcome them.
The forum was officially announced by Director Prof. K. N. Ganesh on July 25, 2020.
Facilitate informal networking among women faculty which can develop into professional/personal support networks (with a sense of Sisterhood).
Create an open atmosphere where every 'Female' of IISERT overcomes the fear/obstacles and realises her inner potential (Expanding the reach of Sisterhood, with informal networks).
Organise seminar series focusing on Women role models (Inspiring life journeys and career paths) and workshops for awareness on career opportunities and developing required skills.
Facilitate being human by organising Institute level gender sensitization sessions (such as: discussion of case studies of gender inequality in academia, topic based discussion forum).
Empower to be the change: Ideathon to identify issues faced by local students and try to address them. Our students (in teams) will identify the issues and pitch a possible solution, the top selected issue-solutions will be taken forward to address with the support of IISERT/NGOs.
Expand the professional networking to women faculty and scientists in and around Tirupati (by conducting Annual/Bi-annual one/half-day events).
Develop gender sensitization among students (all students) through quizzes/workshops pertinent to gender statistics etc. in academia.
Provide career counselling by creating mentor networks/invited speakers that discusses on various career paths, opportunities and provide guidance.
Organise the creation of student networks to support each other in academics, writing or presentation skills, confidence building etc. (Promote a sense of Sisterhood).
Reach out to similar forums in other institutes to identify common issues and come up with diverse models of activity.
Veekshana, the forum of lady scientists of IISER, plans to organize interesting activities to empower women facing issues, career guidance, time management, stress management.
It is important that we get to know the nature of research done by lady scientists around the globe. This will certainly inspire all our colleagues, esp. the young ones, and also getting to know their career paths will be a great encouragement for them.
With this view, we are starting a series of scientific talks, by eminent lady scientists where they will share the excitement of their research, keeping some time for interactions.
This is also part of the activities commemorating 75 years of India's Independence: "Azadi ka Amrit Mahotsav" at IISER Tirupati.
We started this program on Nov 07. This is also Curie day, the birthday of Madam Curie, the legacy of a highly inspirational scientist. This year, this is her 154th birthday and we are happy that we could start this new series of talks today.
The first talk in the series was delivered by, Prof. Francoise Combes, Professor at Collège de France, and Astronomer at Paris Observatory, a very well acclaimed and recognized in the astronomy and astrophysics community. She talked about Super-massive Black Holes.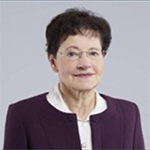 The second talk was on A Mathematician's Journey, an interactive session with Prof. Sujatha Ramdorai, Mathematics Department, University of British Columbia, on Feb 19, 2022.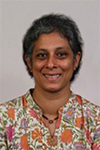 On International Women's Day, Mar 08, 2022, we organized a lecture by Prof. Dr. Dr. Sc. Elena Surovyatkina, Postdam Institute for Climatic Impact Research, Germany on Prediction of Indian Summer Monsoon Onset and Withdrawal: Central India and Delhi.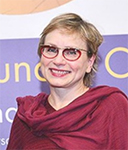 On that day we also had an official launch of the Veekshana Logo by Director, Prof K N Ganesh.
The selected logo from 10 entries from students, is designed by Abhijna Krishnan, IPhD student in Biology (2019 batch).
On the occasion, Abhijna Krishnan's explanation says:
The logo of Veekshana is inspired by official logo of IISERT.
The logo depicts a woman blooming from a lotus flower. The lotus is a flower that grows in muddy water, suggesting the strong will of woman to excel even in most difficult environments. The gesture of the woman in the logo, throwing hands up, indicates feeling of exhilaration at the moment of victory. It also represents independence and confidence. The form of letter V in the logo is the first letter of Veekshana and also stands for Victory.