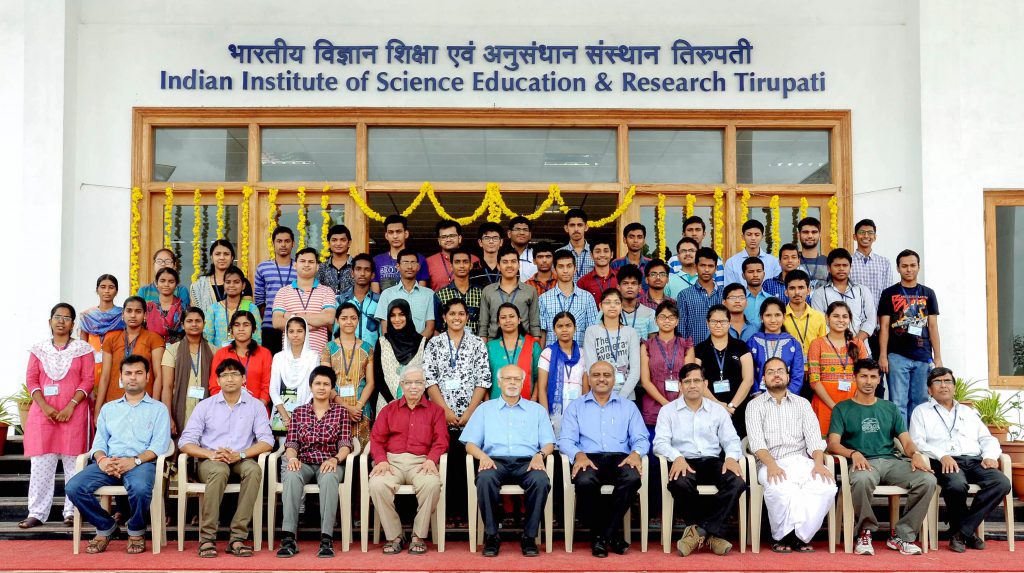 IISER Tirupati is the sixth Institute in the chain of IISERs established by the Govt. of India under the Ministry of Education for imparting quality education in basic sciences and for setting up state-of-the-art research facilities for frontline and cutting-edge research in science. Academic activity at IISER Tirupati commenced in August 2015 in the spacious transit campus located at Sree Rama Engineering College, Rami Reddy Nagar, Karakambadi Road, Tirupati.
The permanent campus of IISER Tirupati is coming up at Srinivasapuram and Panguru village of Yerpedu mandal, on the Yerupedu -Venkatagiri road. IIT Tirupati is also located 3 kms apart on this road. The establishment of IISER and IIT in Tirupati paves the way for a unique synergy of two premier educational institutes in the country.
To be a technology-based, research-driven Institute of Excellence in the realm of the Basic Sciences in which the instructional process at all levels of education that it offers is seamlessly inter-mixed and integrated with undertaking of state-of-art research.
To foster an atmosphere of intellectual excitement among the faculty, staff and the greater institute community with a view to create talent capable of catering to the nation's needs in various areas of the basic sciences by providing a broad range of courses at the integrated undergraduate-postgraduate level with the goal of producing innovative, creative graduates who are well-prepared for their chosen careers in a global society.
To build a culture for scholarship and research by challenging its students, including undergraduates, to pursue the discovery of new knowledge through a flexible curriculum which is inter-mixed and integrated with opportunities to work on research projects.
To cater to the education of the student's whole person through the on-campus residential learning experience which provides them with opportunities for leadership and community service through which they discover the value of responsibility, self-discipline, community service, and undertaking of other exposes them to new cultures, social diversity, and new ways to see the world around them.
To provide students with opportunities for heuristic education which demands that they learn by doing in the classroom, on the job, or through service.
To promote interconnectedness of the institute to the society and the constituencies it serves including development of faculty / industry partnerships with a view to enable faculty members to maintain sensitivity to real-world problems and advancements thereby leading to opportunities to contribute to major research advancement and to develop important networking opportunities for institute students and to expand their experiential learning.
To promote excitement for the study of the basic sciences amongst school students in particular and the propagation of a scientific culture in Indian society in general through offering of societal outreach programs. 
To develop mutually enriching relationship with alumni, government business, and the world community. Teaching learning, scholarship, research, innovation, and leadership development for promoting student success are our central enterprise.