Dr. Sanjay Kumar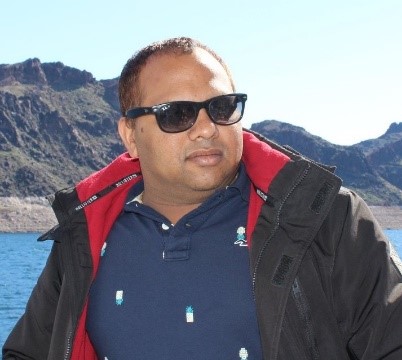 Ramalingaswami Fellow
Phone: Phone: 0877-2500901
Email: Email: sanjay@iisertirupati.ac.in
Research Interests:
Mitochondrial dynamics in normal cellular function and human disease
Signaling mechanisms that define the complex responses to TGF-ß proteins
Ovarian cancer biology and identify novel targets for treatment
Autophagy: Regulatory Mechanisms and Biological Functions
Educational and professional career:
Ph.D (May, 2011): Jiwaji University Gwalior, and work done at Indian Institute of Technology Delhi, India
Teaching Associate (Sept 2011 - Feb 2012): DCRUST Murthal, Haryana, India
Postdoctoral Research Associate (March 2012 - Sept 2017): The Ohio State University Columbus, Ohio, USA
Postdoctoral Scientist (Sept, 2017 - April, 2018): University of Arizona Tucson, Arizona, USA
Ramalingaswami Fellow (May 2018 - ~): Indian Institute of Science Education and Research (IISER) Tirupati, India
Selected List of Honours and Awards:
Ramalingaswami Re-Entry Fellowship (2016-2017)
SERB Young Scientist Award (2015) (Not availed)
Selected publications:
Sanjay Kumar, Pan CC, Shah N, Wheeler SE, Hoyt KR, Hempel N, Mythreye K, Lee NY. (2016) Activation of mitofusin2 by Smad2-RIN1 complex during mitochondrial fusion. Molecular Cell 62, 1-12.
Nirav Shah, Sanjay Kumar and Nam Lee. (2018). Regulation of Microtubule Acetylation and Intracellular Transport by TGF-ß Activated Kinase 1 (TAK1). Nature Communications 9:1696. DOI: 10.1038/s41467-018-04121y.
Sanjay Kumar, C. C. Pan, J. C. Bloodworth, A. Nixon, C. Theuer, D.G. Hoyt, and N.Y. Lee, (2014). Antibody-directed coupling of endoglin and MMP-14 is a key mechanism for endoglin shedding and deregulation of TGF-ß signaling. Oncogene 33, 3970-3979.
Pan CC, Shah N, Sanjay Kumar, Wheeler SE, Cinti J, Hoyt DG, Beattie CE, An M, Mythreye K, Rakotondraibe LH, Lee NY. (2017) Angiostatic actions of capsicodendrin through selective inhibition of VEGFR2-mediated AKT signaling and disregulated autophagy. Oncotarget 8(8): 12675-12685.
C.C. Pan, Sanjay Kumar, N. Shah, , J. C. Bloodworth, L. J.A.C. Hawinkles, K, Mythreye, D.G. Hoyt, and N.Y. Lee. (2015). Endoglin regulation of Smad2 function mediates beclin1 expression and endothelial autophagy. Journal Biological Chemistry 290(24):14884-92.
C.C. Pan, Sanjay Kumar, N. Shah, D.G. Hoyt, L. J.A.C. Hawinkles, K, Mythreye and N.Y. Lee. (2014). Src-mediated post-translational regulation of endoglin stability and function is critical for angiogenesis. Journal Biological Chemistry 289(37):25486-96.
Teaching:
BIO308: General Biology
BIO112: Biology Lab I: Basic Biology
BIO122:Biology Lab II: Biochemistry and Molecular Biology
BIO341/641: Cell Biology
Open Positions
An position for a JRF is expected to be available soon in my lab.