Sambuddha Sanyal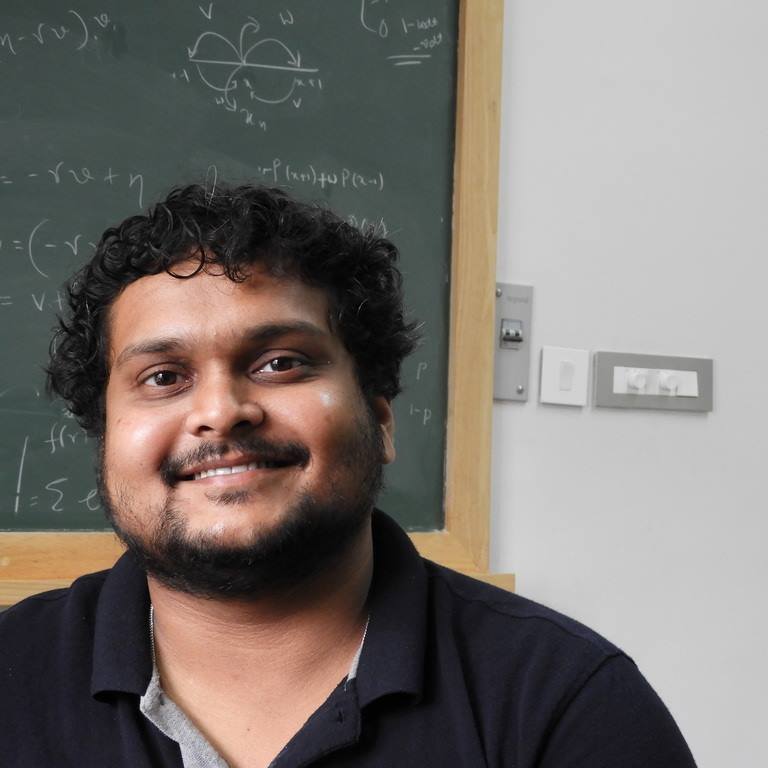 Assistant Professor
Department of Physics, IISER Tirupati
Email: sambuddha.sanyal [AT] iisertirupati.ac.in
Phone: +91 877 2500 944
Webpage
Research Interests
Theoretical condensed matter, Strongly correlated systems, Quantum spin liquids, Frustrated magnets, Disordered systems, Thermalisation and chaos.
Educational and Professional Career
Ph.D (2014): Department of Theoretical Physics, Tata Institute of Fundamental Research, Mumbai

Postdoctoral Fellow (2014-2015): Indian Institute of Science, Bengaluru

Postdoctoral Fellow (2015-2018): International Centre for Theoretical Sciences, Bengaluru

Postdoctoral Fellow (2018-2019): Columbia University, New York
Honours and Awards
Canadian Commonwealth Fellowship, Canada, 2012

*Dr. D. S. Kothari Post Doctoral Fellowship, UGC, India(2015)

Indo-US Post Doctoral Fellowship, IUSSTF, SERB , India (2017)

*INSPIRE faculty award, DST, India (2018)

*Ramanujan fellowship award, DST, India (2020)
* didn't avail
Publications
Emergent moments and random singlet physics in a Majorana spin liquid
S Sanyal, K Damle, JT Chalker, R Moessner
arXiv preprint arXiv:2006.16987 (2020)

Interplay of uniform (1) quantum spin liquid and magnetic phases in rare-earth pyrochlore magnets: A fermionic parton approach
S Sanyal, K Dhochak, S Bhattacharjee
Physical Review B 99 (13), 134425 2019
Anomalous transport in the Aubry-Andre-Harper model in isolated and open systems
A Purkayastha, S Sanyal, A Dhar, M Kulkarni
Physical Review B 97 (17), 174206 2018
Glueball spectra from a matrix model of pure Yang-Mills theory
N Acharyya, AP Balachandran, M Pandey, S Sanyal, S Vaidya
International Journal of Modern Physics A 33 (13), 1850073 2018
Random matrices and holographic tensor models
C Krishnan, KVP Kumar, S Sanyal
Journal of High Energy Physics 2017 (6), 1-26 2017
Quantum chaos and holographic tensor models
C Krishnan, S Sanyal, PNB Subramanian
Journal of High Energy Physics 2017 (3), 56 2017
Vacancy-induced low-energy states in undoped graphene
S Sanyal, K Damle, OI Motrunich
Physical Review Letters 117 (11), 116806
Teaching
PHY 321/621 Spring 2020: Quantum Mechanics II

PHY 323 Monsoon 2020: Quantum Mechanics I
Open Positions
We are constantly looking forward for applications from highly motivated young researchers. Interested candidates should directly contact by email at sambuddha.sanyal@iisertirupati.ac.in (with detail CV).