Raju Mukherjee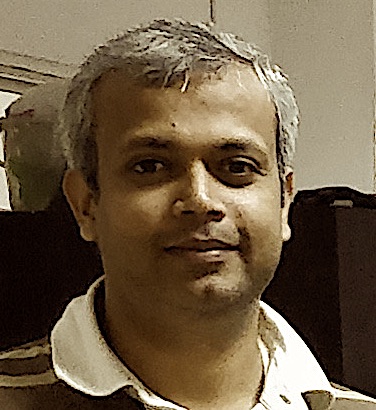 Associate Professor
Department of Biology, IISER Tirupati
Email: raju.mukherjee [AT] iisertirupati.ac.in
Phone: +91 877 2500 441
Group Webpage
Research Interests
Integrative mycobacterium biology, Anti-mycobacterial drug discovery, Mass spectrometry based microbial proteomics, High density transposon mutagenesis
Educational and Professional Career
Ph.D (2007): Indian Institute of Science, Bangalore

Associate Research Investigator (2008-2011): Biocon Research Centre, Bangalore

Scientist (2011-2013): Swiss Federal Institute of Technology-EPFL, Lausanne

Senior Post Doctoral Research Fellow (2013-2016): UCT-Institute of Infectious Disease and Molecular Medicine, Cape Town

Assistant Professor (April, 2016 ~): Indian Institute of Science Education and Research (IISER) Tirupati, India
Selected Publications
Majumdar G., Mbau R., Singh V., Warner D F, Dragset M. & Mukherjee, R*, " Genome-wide transposon mutagenesis in Mycobacterium tuberculosis and Mycobacterium smegmatis.", Book chapter in "In Vitro Mutagenesis: Methods and Protocols", Methods in Mol. Biol. In Press, 2016.

Kolly, GS., Mukherjee, R., Kilacskova, E., Abriata, LA., Raccaud, M., Blasko, J., Sala, C., Dal Peraro, M., Mikusova, K. & Cole, ST., " GtrA protein Rv3789 is required for arabinosylation of arabinogalactan in Mycobacterium tuberculosis.", J. bacteriol. 197(23) , 3686-97, (2015).

Brecik, M., Centàrovà, I., Mukherjee, R., Kolly, G S. Huszàr, S., Bobovska, A., Kilacskovà, E., Mokosovà, V., Svetlikova, Z., sarkan, M., Neres, J., Kordulàkovà, J., Cole, ST. & K. Mikusovà., " DprE1 is a vulnerable tuberculosis drug target due to its cell wall localization.", ACS Chem Biol 10(7)., 1631-6 (2015).

Singh, V., Brecik, M., Mukherjee, R., Evans, J C., Svetlikovà, Z., Blackburn, J., Warner, DF., Mikusovà, K. & Mizrahi, V., " The Complex Mechanism of Antimycobacterial Action of 5-Fluorouracil ", Chemistry and Biology, 22(1), 63-75 (2015).

Mukherjee R*, Chatterji D., "Glycopeptidolipids: immuno-modulators in greasy mycobacterial cell envelope.", IUBMB Life 64(3), 215-25 (2012).
Teaching
BIO-121: Biology Lab I: Basic Biology (Monsoon, 2016)

BIO-102 Introductory Biology II: Cellular and Molecular Biology (Spring, 2017)
Open Positions
We are constantly looking for young dynamic candidates to join our group at several levels. Please visit our
Group Webpage
for an appropriate position.