Eswarayya Ramireddy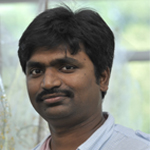 Associate Professor
Department of Biology, IISER Tirupati
Email: eswar.ramireddy[AT]iisertirupati.ac.in
Phone: +91 877 2500 442
Google Scholar Profile
Research Interests
Unravelling the Arabidopsis root cap development and its response to environmental cues

Investigating host-pathogen interactions at systems level in model plants and cereals

Functional genomics, GWAS in rice, amaranth and tomato for improving key agronomic traits

Plant Molecular Developmental Biology and Physiology; Applied Genetics
Educational and Professional Career
B.Sc (Agriculture) (Sep, 2001): ANGR Agricultural University, Hyderabad, India

Ph.D (Oct, 2009): Department of Applied Genetics , Free University of Berlin, Germany

Post-Doctoral Scientist (2009-2010): Department of Applied Genetics, Free University of Berlin, Germany

Group leader (Jan 2011 - Mar 2016): Department of Applied Genetics, Free University of Berlin, Germany

Assistant Professor (Apr 2016 - July 2022): Indian Institute of Science Education and Research (IISER) Tirupati, India

Associate Professor (July 2022 ~): Indian Institute of Science Education and Research (IISER) Tirupati, India
Honours and Awards
Early Career Research award from DST-SERB, Govt. of India

Young Research Scientist award from Krolow Foundation, Berlin, Germany

Elsa Neumann Grant from State of Berlin for Graduate Studies

Teaching and Research Assistantship Stipend DAAD, Germany
Selected Publications
Deb S, Jayaprasad S, Ravi S, Rao KR, Whadgar S, Hariharan N, Dixit S, Sunil M, Choudhary B, Stevanato P, Ramireddy E and Srinivasan S (2020) "Classification of grain Amaranths using chromosome-level genome assembly of Ramdana, A. hypochondriacus". Front. Plant Sci. 11:579529.

Vemireddy LR; Kadambari GK; Eswarreddy G; Kola VS; Ramireddy E; et al (2019). "Uncovering of natural allelic variants of key yield contributing genes by targeted resequencing in rice (Oryza sativa L.)". Scientific Reports. 9:8192.

Witzel, K, Matros A, Møller A, Ramireddy E, Christine F,… Schmülling T, Svensson B, Mock, H-P (2018) "Plasma membrane proteome analysis identifies a role of barley Membrane Steroid Binding Protein in root architecture response to salinity". Plant, Cell & Environment. 41(6):1311–1330.

Ramireddy E, Hosseini SA, .., von Wirén N, Schmülling T. (2018a) "Root engineering in barley: Increasing cytokinin degradation produces a larger root system, mineral enrichment in the shoot and improved drought tolerance", Plant Physiology 177(3):1078-95. [Highlighted Article, Commentary article (Jukolwska, M. 2018) is published].

Chang L, Ramireddy E*, Schmuelling T, (2015) "Cytokinin as a positional cue regulating lateral root spacing in Arabidopsis ", Journal of Experimental Botany 66(15), 4759-4768 *Co-corresponding author

Siddique S, Radakovic Z, De La Torre CM, Chronis D, Novak O, Ramireddy E et al. (2015) "A plant-parasitic nematode releases cytokinin that controls cell division and orchestrates feeding-site formation in host plants ", Proceedings of the National Academy of Sciences USA 112 (41), 12669-74 .

Heyl A*, Ramireddy E*, Brenner WG, Riefler M, Allemeersch J, Schmuelling T., (2008) " The transcriptional repressor ARR1-SRDX suppresses pleiotropic cytokinin activities in Arabidopsis.", Plant Physiology 147, 1380-1395 .*Equal first author
Patents
Schmuelling T, Heyl A, Ramireddy E, " Transcriptional repressors of cytokinin signaling and their use ",
EU granted patent No. EP2121935 (2011)
US Granted patent number 12442662 (2015) .
Teaching
BIO110 & 111: Introductory Biology I: Basic Principles

BIO425/725: Plant developmental biology

BIO423/723: Applied plant biology
Open Positions
We are constantly looking for young dynamic candidates to join our group at several levels.
Please contact PI via email with your research interest. .